Unveiling the new Samsung SMT –i5343 IP Phone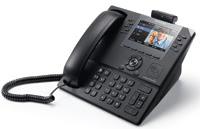 Compatible with Samsung OfficeServ systems, the Executive Model SMT-i5343 is our new top-of-the-line IP phone that seamlessly connects with mobile devices, enabling businesses to increase productivity and make the most of mobility.
With the perfect combination of power and style, this phone incorporates Near-Field-Communications (NFC), Bluetooth® and Wireless technologies, and comes with full duplex speaker phone, large color display, USB 1.3 mega pixel camera option and absolutely FREE Samsung Desk phone Manager (SDM) software.

Phones will start shipping on October 20th. Place your order today to take advantage of the introductory price! Quantities are limited.


Part #
Description
List Price
PROMO


PRICE
Savings
SMT-i5343K/XAR


SMT-i5343 IP Phone

USA: $399
CAN: $415
USA: $349
CAN: $364
$50
Prices effective on October 14th.
Offer valid through December 29th, 2014 or while supplies last!
LET THE FRENZY CONTINUE with unbeatable prices for our entire lineup of IP phones!
Historically, the higher cost of IP phones has been the most challenging factor limiting their wide adoption. That's not the case anymore! To celebrate the new member of the family, we've decided to close the gap between IP and digital deployments by reducing the prices of our IP phone product portfolio.

Whether you buy 1 or 10 phones, you'll always get unbeatable prices.

Part #
Description
NEW LIST
PRICE
Savings
SMT-I5230D/XAR


SMT-i5230 IP Phone

USA: $275
CAN: $286
14%
SMT-I5220K/XAR


SMT-i5220 IP Phone

USA: $256
CAN: $266

14%


SMT-I5210D/XAR

SMT-i5210 IP Phone

USA: $234
CAN: $243

13%


SMT-i3105D/XAR

SMT-i3105 IP Phone

USA: $160
CAN: $166

13%

954-591-8647 now to order!!!!